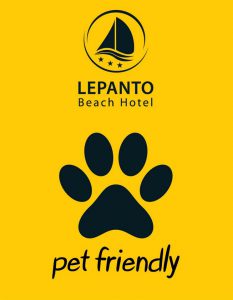 The LEPANTO BEACH HOTEL policy for pets
For a better stay for your pets, their comfort and insurance of all hotel guests and staff, please follow the following rules:
Your pets should have all recommended vaccines, currently updated, by an authorized veterinarian. The hotel has the right to ask for this information from you at any time.
Our hotel charges only once for the whole of your stay, a cleaning fee of 20,00 euro per pet in your room.
A maximum of one pet is allowed in each room.
Guests are responsible for the pet's litter in the inside of the hotel and all property areas.
Pets should be on a leash and be supervised at any case in public areas of the hotel or the building.
If a pet is left unsupervised, either in a public area of the accommodation or in the room and disturbs our guests you will receive notice from the hotel. Upon a second violation, you will be fined with a charge of 100€ from the management of the Lepanto Beach Hotel.
Please inform the staff of the hotel if a pet is in your room, in case you leave it alone.
Pets are not allowed in indoor dining areas and in the breakfast room.
Pets should be controlled as to not disturb the rest of the guests. Pets who disturb the guests of the hotel by barking or grunting submit their owners to any penalties for loss of earnings by the hotel.
If the pet is free in the room a "Do not disturb" sign should be put on the door.
In this case your room will NOT receive room service.
We will not bear any responsibility if your pet is set free if there is not a "Do not disturb" sign.
Guests are responsible for all injuries or/and damage caused by their pet. The guest agrees to reimburse and exempt the Lepanto Beach Hotel, the owners and the management of any liability and/or damage caused as a result of their pets.
For any clarification please address the hotel's reception.
Thank you for your cooperation.